17th September 2017
anime & manga
3 Comments
Dear Chibi,
Over the last couple of weeks, I've been spending my free time indulging in the newly released Sailor Moon S Part 2 on DVD :D Madman has also recently announced we'll be getting the 90s Sailor Moon on Blu-Ray for the first time ever! The first 3 seasons will be available as complete Blu-Ray sets starting from 6th December 2017, and the remaining sets will roll out along with the DVDs. SuperS and Sailor Stars (the final 2 seasons) will use newly created masters from Japan for both the DVD and BD sets. Ahhhhh, I can't wait to see how these look :D!!
For the meantime, here are my thoughts on Sailor Moon S Part 2! (Check out my Sailor Moon S Part 1 review here)
"Sailor Uranus and Sailor Neptune's search for the three talismans has led them to become targets of the Witches 5, the Death Busters' beautiful and deadly agents, who also seek the talismans to summon the powerful Holy Grail! Now, Sailor Moon and the other Sailor Guardians are on a race against time to save their friends' lives and prevent the power of the Holy Grail from falling into the wrong hands. 
Meanwhile, Chibi-Usa befriends a young girl named Hotaru, whose mysterious power quickly attracts the attention of both friend and foe. Is there a connection between Hotaru and the enemy? And who is the Messiah of Silence that is said to bring destruction? Will Sailor Moon's new power be enough to protect the world from the impending apocalypse?"
27th August 2017
outting & occasions
2 Comments
Dear Chibi,
Today we celebrated Kat's 31st with lunch at COOH Organic Cafe at Alexandria. It was our first time here and we were not disappointed! The food was fresh and delicious. Out of our 3 meals though, I think Kat's pumpkin falafel is the winner.
25th June 2017
anime & manga
19 Comments
Dear Chibi,
Sailor Moon R The Movie: The Promise of the Rose is out on DVD remastered! I haven't seen this movie in quite a while, but it was by far my favourite of the 3 Sailor Moon movies. Seeing it again so many years later, my thoughts largely remain the same.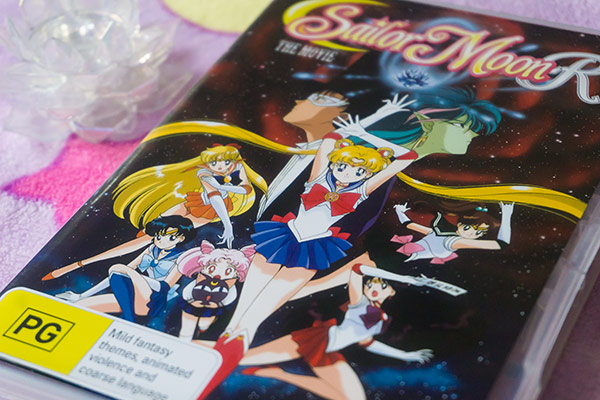 "Long before Mamoru found his destiny with Usagi, he befriended a lonely boy who helped him recover from the crash that claimed his parents. This long-forgotten friend, Fiore, has been searching the galaxy for a flower worthy of that sweet gesture long ago. The mysterious flower he finds is beautiful, but has a dark side. Faced with an enemy blooming out of control, it's up to Sailor Moon and the Sailor Guardians to band together, stop the impending destruction and save Mamoru!"

As with most anime movies, this film is best enjoyed as a standalone. Nothing in the film affects the main story at all, and the actual villains from the series (The Black Moon Clan) are never mentioned. The events portrayed in the film seem to take place somewhere between episode 77 and 82, after Chibiusa learns of everyone's identity and when Usagi and Mamoru get back together. It makes sense since the film debuted in Japanese theaters on 5 December 1993, a week before episode 77 aired. While it's not necessary to watch the movie, it's a delightful experience with plenty of emotion and drama.
4th June 2017
anime & manga
/
drawings
15 Comments
Dear Chibi,
I once joked about only doing one digital painting per year… and it looks like that's actually happening XD. Well, here it is! This is my first time painting Japanese singer Karin Takahashi as Sailor Saturn from the Sailor Moon Musical Un Nouveau Voyage :D I really enjoyed her performance and had the sudden urge to do a Sailor Moon fanart (it's been a long time!)
Please click on the thumbnail for a larger view :)
I end up spending my entire weekend at the computer with my wacom tablet. All up, it took around 24 hours to finish. I'm really quite happy with how it turned out :) I took some liberties with her eyes to give it a more anime-ish feel. Hopefully she still has some resemblance to Karin XD
See it come together (Work in progress below)
25th February 2017
anime & manga
8 Comments
Dear Chibi,
After a one and a half year wait since Sailor Moon R part 2, Sailor Moon S part 1 is finally here!! :D This is my review of Madman's Australian and New Zealand release, which contains Viz Media's new English dub along with the original Japanese audio. This is the 5th volume of the set and contains 19 episodes on 3 discs. Only 5 volumes to go!
See my review of Sailor Moon: Part 1 & Part 2
Sailor Moon R: Part 1 & Part 2
Sailor Moon S is my second favourite season (just behind Sailor Stars) and introduces two new outer senshi Sailor Uranus & Sailor Neptune. The popularity of the third season is largely due to this pair, and it's not hard to see why. THEY ARE JUST. SO. COOL. And ruthless. They also happen to be lovers. What makes this release special is that we finally have an English uncut version that aims to preserve the integrity of the original Japanese scripts. They are no longer "cousins" (Which is pretty hilarious.. xD). This is long overdue, don't you think? ;)
30th December 2016
anime & manga
/
outting & occasions
2 Comments
Dear Chibi,
It's time for our annual Seramyu viewing again! This year's performance is titled "Amour Eternal" based on the 4th season known as SuperS/Dream Arc. Fans don't often quote the 4th season as their favourite, but it's still enjoyable nevertheless and has a fun group of villains. I'm so glad the Outer Senshi return, because I loved them so much in 'Un Nouveau Voyage'!
Before we started, I made spaghetti bolognese for lunch and Kat brought along a plate of spinach cob dip! Yum!
26th December 2016
outting & occasions
12 Comments
Dear Chibi,
This year we spent Christmas at my parents house, and it was a fun-filled day hanging out with my siblings & siblings-in-law.
25th September 2016
anime & manga
13 Comments
Dear Chibi,
This post will be a review of Sailor Moon Crystal Set 1 Limited Edition DVD/Blu-Ray Combo released by Madman for Australia and New Zealand.
Sailor Moon Crystal Set 1 contains the entire first season with 14 episodes. It has the original Japanese audio with English subtitles, as well an English dub by Viz Media.
24th September 2016
anime & manga
9 Comments
Dear Chibi,
The shinies are here!! :D Look how pretty they are!
My bro pre-ordered these cute Sailor Moon Communicator Watches for my birthday back in April. The July release date got pushed back, so it took a while for these to arrive from Japan. I wasn't sure what to expect in terms of quality, since these are capsule toys after all. Would I be able to wear it? Can I use it as a real watch? Would it be too plastic and fragile? Seeing how much I loved the Sailor Moon mirror compacts, I had a feeling everything will be alright :D
17th July 2016
anime & manga
No Comments
See my review of Sailor Moon: Part 1 & Part 2
Sailor Moon R: Part 1
Dear Chibi,
About a week ago I received my copy of Sailor Moon R Part 2 on DVD (AU/NZ Madman release)! This is the 4th volume of the series and contains 21 episodes.
Sailor Moon R Part 2 is where it starts to get really good…and oh my the feels. I really enjoy just sitting down and watching the show. You might think it's simply a case of nostalgia, but I'd like to think the charm and appeal of Sailor Moon is timeless. While this isn't a Bluray disc, I never thought the video quality was poor, or outdated. For a show that's made in the 90s, these remasters are great.
Hi! I'm Chibi Jen. A twin, digital producer, comic artist and cat owner from Sydney. This is my journal to capture my little daily adventures. More about me >
Categories
Topics
Latest Comments
Dear Chibi © 2005 - 2017 Chibi Jennifer. All rights reserved.
Please do not use or republish any content from this blog without permission. Back to Top