30th December 2017
anime & manga
Tags:
movie
,
review
4 Comments
Dear Chibi,
It's been a long time since an anime film (or rather, any animation film) has left this much impression on me. Shinkai Makoto's 'Your Name' (Kimi no Na wa.) is the highest-grossing anime film of all time and it's easy to see why. The moment the film starts I'm mesmerized by the stunning art, the gorgeous colours and the compelling animation. Every scene is a work of art. The detailed visuals and audio work harmoniously together to convey a very realistic portrayal of Japan. Yet, in the end… it was the emotionally powerful story that moved me. "Your Name" is pretty perfect to me. Tears were shed :'D
25th June 2017
anime & manga
Tags:
movie
,
review
,
sailor moon
19 Comments
Dear Chibi,
Sailor Moon R The Movie: The Promise of the Rose is out on DVD remastered! I haven't seen this movie in quite a while, but it was by far my favourite of the 3 Sailor Moon movies. Seeing it again so many years later, my thoughts largely remain the same.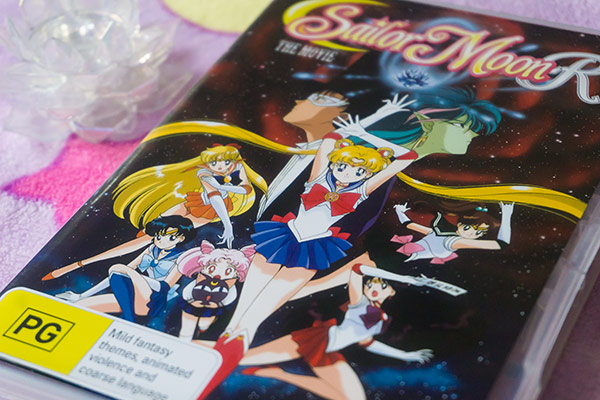 "Long before Mamoru found his destiny with Usagi, he befriended a lonely boy who helped him recover from the crash that claimed his parents. This long-forgotten friend, Fiore, has been searching the galaxy for a flower worthy of that sweet gesture long ago. The mysterious flower he finds is beautiful, but has a dark side. Faced with an enemy blooming out of control, it's up to Sailor Moon and the Sailor Guardians to band together, stop the impending destruction and save Mamoru!"

As with most anime movies, this film is best enjoyed as a standalone. Nothing in the film affects the main story at all, and the actual villains from the series (The Black Moon Clan) are never mentioned. The events portrayed in the film seem to take place somewhere between episode 77 and 82, after Chibiusa learns of everyone's identity and when Usagi and Mamoru get back together. It makes sense since the film debuted in Japanese theaters on 5 December 1993, a week before episode 77 aired. While it's not necessary to watch the movie, it's a delightful experience with plenty of emotion and drama.
22nd April 2017
anime & manga
Tags:
movie
2 Comments
Dear Chibi,
Thanks to Madman, I scored a double pass to see 'A Silent Voice' with Hubby last night. I had entered a Twitter competition, and was lucky enough to be a winner. Sweeeeet :)
16th June 2013
anime & manga
Tags:
evangelion
,
movie
,
review
2 Comments
Dear Chibi,
I received Evangelion: 1.11 and 2.22 Blu-Ray in the mail about a week ago but haven't had the chance to sit down and write about it until now :D
Let me start off by saying… I haven't really watched Evangelion before. Well, I have a little bit back in my early high school days but that was so long ago and in-sequential that it didn't make much sense XD Hopefully watching the movies this time around will be a more fulfilling experience. I want to know what the fuss is all about!
Evangelion: 1.11 You are (NOT) Alone and 2.22 You Can (NOT) Advance
The two came in a very well packaged box. I had a pleasant time un-boxing it and I loooove the look of these. The plain orange and red on the slip covers work well. Since these were part of a series/collection, I lined them up to see how they'd looked together:
One side features a face of Shinji Ikari and Mari Illustrious Makinami (new character in the movie)
27th May 2012
general
Tags:
movie
,
titanic
8 Comments
*Plays 'My Heart Will Go On'*
Dear Chibi,
Last night I watched Titanic for the first time in my life at the IMAX Theatre in 3D. I never watched the film when it came out in 1997, but I knew about the hype and have always been meaning to see it. Lucky for me, it recently came out in cinemas again after 15 years (and remastered), so this was just the perfect opportunity! You would think after 15 years, the story would already be spoiled for me, but it wasn't. I didn't really know what to expect. All I knew was that it's about a two lovers who meet on the gigantic ship which eventually sinks. That pretty much sums up the plot, but all the juicy parts come from how it happened. Everything about this film was mind-blowing amazing to me. While the CG and special effects were impressive, it was the romantic plot between the two protagonist which left the most impression on me. Such a epically romantic, tragic and thrilling tale….just love it :D
Definitely a film not to miss (If there's still anyone else out there who hasn't seen it XDD)
Hi! I'm Chibi Jen. Mummy to P-chan, wife, a twin sister and comic artist from Sydney. This is my journal to capture my little daily adventures. Photography by Jaychan.
Topics
Tags
Contact
Email: chibijennifer@gmail.com
Dear Chibi © 2005 - 2023 Chibi Jennifer. Photography by Jaychan. All rights reserved.
Please do not use or republish any photos or written content from this blog. Back to Top