25th June 2017 at 9:00 pm
Dear Chibi,
Sailor Moon R The Movie: The Promise of the Rose is out on DVD remastered! I haven't seen this movie in quite a while, but it was by far my favourite of the 3 Sailor Moon movies. Seeing it again so many years later, my thoughts largely remain the same.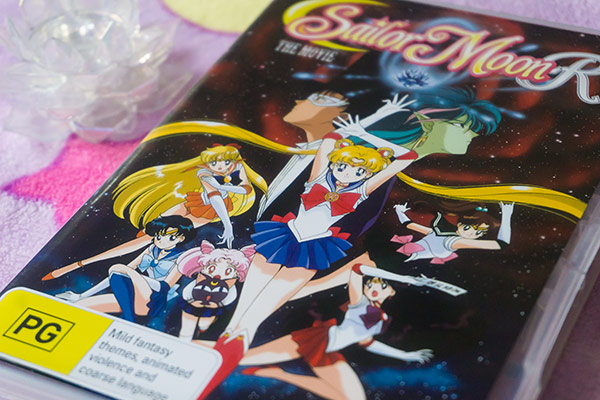 "Long before Mamoru found his destiny with Usagi, he befriended a lonely boy who helped him recover from the crash that claimed his parents. This long-forgotten friend, Fiore, has been searching the galaxy for a flower worthy of that sweet gesture long ago. The mysterious flower he finds is beautiful, but has a dark side. Faced with an enemy blooming out of control, it's up to Sailor Moon and the Sailor Guardians to band together, stop the impending destruction and save Mamoru!"

As with most anime movies, this film is best enjoyed as a standalone. Nothing in the film affects the main story at all, and the actual villains from the series (The Black Moon Clan) are never mentioned. The events portrayed in the film seem to take place somewhere between episode 77 and 82, after Chibiusa learns of everyone's identity and when Usagi and Mamoru get back together. It makes sense since the film debuted in Japanese theaters on 5 December 1993, a week before episode 77 aired. While it's not necessary to watch the movie, it's a delightful experience with plenty of emotion and drama.
What I love about the movie is that it captures the essence of "Sailor Moon" beautifully. Themes of friendship and loneliness is also very apparent. The pacing is excellent as it never feels draggy or too rushed. With 62 minutes of run time, they did a great job balancing action and story. Speaking of action… fans of the 90's anime will appreciate all the non stock footage used for the fighting scenes. We've become so accustomed to the same attack sequences, it's refreshing to see some new animation! :D
I also think Viz Media's English cast did a wonderful job. I had no issues with it and the script is pretty faithful to the original. A big tick :)
The product packaging
Let's have a look at the packaging of this Australian release by Madman:
I'm happy they used the original art for the cover :)  For whatever reason, it was redrawn for the US release which left many fans displeased. The culprit? This. I'll let you decide which looks better ;)
Overall, the slip design is simple and pleasing. The print on the disc itself is a bit plain for my liking though:
Moving onto the DVD menu screen, I always find these a complete let down :(
There is so much potential to make this exciting and engaging, but it's the same background used for all of Madman's other Sailor Moon DVDs. This time it's worse because there's not even a picture on the right >.<  At least "Moon Revenge" plays in the background…~ sigh~
Thankfully, the video is fabulous. While we never got a Bluray release from Madman, the DVD picture quality is stunning. I'm thoroughly impressed by how crisp and colourful everything looks :O Check out some of these screenshots:
Ahh..so clear and sharp!!!! :D It's amazing seeing something so old look so new again :') I love it.
This release contains 2 'extra' items. One is standard Madman anime trailers and the other is a 15-minute recap of the series titled "Make Up! Sailor Guardians". It was shown in Japanese theaters before the actual movie. This comes included with the English dub as well. To be honest, I didn't enjoy the segment that much since the drawings aren't…that nice.
'Make Up! Sailor Guardians' title screen
Not a huge fan of this art style. Usagi also acts really weird. OH WELLS XD.
I hope you enjoyed this review and found it helpful in some way. Feel free to drop a comment below with your thoughts!
Note: This is Madman's AU/NZ release of Sailor Moon R: The Movie. DVD is Region 4. If you're interested in getting a copy, you can order it here. For more links to other merchandise, check out our Sailor Moon Shopping Guide!
19 Responses to "Sailor Moon R The Movie~ The Promise of the Rose Review"