31st October 2017
general
No Comments
Dear Chibi,
Happy Halloweeeeeen! We decided to dress up Champy in his lion outfit, isn't he adorable? :') As usual, we couldn't get him to stop moving around so video screenshots will have to do.
29th October 2017
outting & occasions
No Comments
Dear Chibi,
Yesterday we spent the evening at Helen's new place in Liberty Grove. The area seems pretty nice and it also has a tennis court. Fong managed to play a bit before heading to a bucks, while Jacky & Jia played for another hour or two. The rest of us relaxed with some cheese, olives & crackers back at home.
21st October 2017
outting & occasions
No Comments
Dear Chibi,
It's been a crazy long week in the office. I'm glad I had a Friday night catch-up to look forward to, even though it was unexpectedly cold and wet. It was so cold I had to get an emergency cardigan since I was only in a tee :'D Worked out in the end at least, heheee.
We decided to have Korean @Arisun in Chinatown. This place always looked busy but I've never dined there myself. The food's not bad, very tasty. We ordered the spicy grilled pork belly, crispy boneless fried chicken and diy seasoned rice balls. I think my favourite were the rice balls. It reminds me of Hubby's onigiri :3
15th October 2017
outting & occasions
No Comments
Dear Chibi,
Last night I hung out with my siblings with dinner at Masuya Japanese Restaurant. I forgot how amazing the food is…everything is so fresh and delicious! My favourite were the scallops but everything was pretty damn good.
Best of luck with your print business Jia and thanks again for the meal :D
17th September 2017
anime & manga
3 Comments
Dear Chibi,
Over the last couple of weeks, I've been spending my free time indulging in the newly released Sailor Moon S Part 2 on DVD :D Madman has also recently announced we'll be getting the 90s Sailor Moon on Blu-Ray for the first time ever! The first 3 seasons will be available as complete Blu-Ray sets starting from 6th December 2017, and the remaining sets will roll out along with the DVDs. SuperS and Sailor Stars (the final 2 seasons) will use newly created masters from Japan for both the DVD and BD sets. Ahhhhh, I can't wait to see how these look :D!!
For the meantime, here are my thoughts on Sailor Moon S Part 2! (Check out my Sailor Moon S Part 1 review here)
"Sailor Uranus and Sailor Neptune's search for the three talismans has led them to become targets of the Witches 5, the Death Busters' beautiful and deadly agents, who also seek the talismans to summon the powerful Holy Grail! Now, Sailor Moon and the other Sailor Guardians are on a race against time to save their friends' lives and prevent the power of the Holy Grail from falling into the wrong hands. 
Meanwhile, Chibi-Usa befriends a young girl named Hotaru, whose mysterious power quickly attracts the attention of both friend and foe. Is there a connection between Hotaru and the enemy? And who is the Messiah of Silence that is said to bring destruction? Will Sailor Moon's new power be enough to protect the world from the impending apocalypse?"
5th September 2017
outting & occasions
2 Comments
Dear Chibi,
Last weekend I had the pleasure of witnessing my dear friend Sompies wed the man of her dreams. I've known Somps for over a decade. Sweet and kind, she is one of the most easy-going and down to earth person I know. She kind of reminds me of a boy sometimes (girls are usually much more dramatic XD). Over the years, Somps has always treated me like a younger sister and I wish her nothing but happiness in this next chapter of her life.
Congratulations to both the bride and groom! You guys looked fabulous. Below are some moments of the day captured by my talented Hubby. Enjoy the eye candy!
27th August 2017
outting & occasions
2 Comments
Dear Chibi,
Today we celebrated Kat's 31st with lunch at COOH Organic Cafe at Alexandria. It was our first time here and we were not disappointed! The food was fresh and delicious. Out of our 3 meals though, I think Kat's pumpkin falafel is the winner.
14th August 2017
outting & occasions
2 Comments
Dear Chibi,
This weekend I was up at the Blue Mountains to celebrate Somp's Hens! After a 2.5 year long engagement, it's finally happening in 3 weeks! Where did that time go?
Our favourite Bride To Be~
Let the party begin :D!
~***~
6th August 2017
drawings
2 Comments
Dear Chibi,
Today I spent most of the day working on a new painting as a gift for Somps & Dong's upcoming wedding :)! I wanted this to look soft, as though it's been done with pencil & water-colour. I've always liked the look of water colour art, but since I'm not too confident with traditional methods, I decided to do it digitally.
I'm really happy with how this turned out… I think it's really pretty ^.^
What a cute couple <3
22nd July 2017
outting & occasions
No Comments
Dear Chibi,
Birthday celebration for Rayfy's 30th, the baby-face in the group :D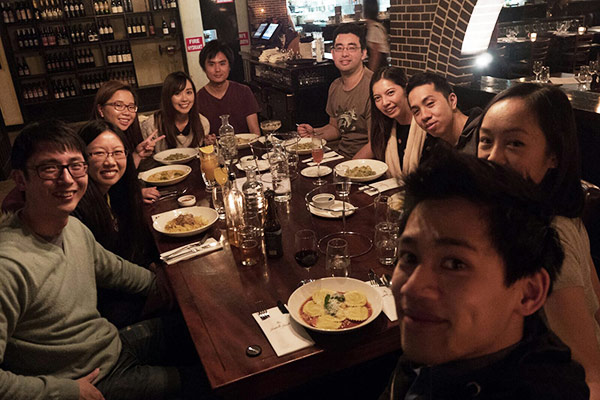 Dinner @ Fratelli Fresh Macquarie St
Hi! I'm Chibi Jen. A twin, digital producer, comic artist and cat owner from Sydney. This is my journal to capture my little daily adventures. More about me >
Categories
Topics
Latest Comments
Dear Chibi © 2005 - 2017 Chibi Jennifer. All rights reserved.
Please do not use or republish any content from this blog without permission. Back to Top