26th September 2008
asian entertainment
/
general
Tags:
flashback
,
random
,
tvb
7 Comments
-quote Mae West
Dear Chibi,
I've realised I haven't blogged since September 13th, and while that doesn't seem too long ago, I know I've left out a lot of blog entries I could have made over the past couple of weeks. Sometimes I really feel obligated to put down things that happened, but there's just times when I don't know how to put it in words. Sometimes I simply can't be bothered to blog, other times I don't have much time. The other day at work, I looked at the mini calendar sitting on my desk, and the quote of the day was 'Keep a diary and one day it'll keep you'. *sigh* So very true.. okay, so I'll attempt to write something..
hmm..I hear a random girl screaming outside my window…oh.. I just received a new email notification via MSN..from some viagra admin- great. *delete*
I'm listening to Raymond Lam's album at the moment- Kaz bought it recently and was very very very happy to find it in the mail. Ah, what a fangirl she is, hehe..Lately I've been following the HK series 'Moonlight Resonance'- I was pleased with this drama actually, a lot better than other TVB series I've watched in a long time and much better than it's prequel, which was supposedly also a hit. Moonlight Resonance also had a Moon Cake theme in it, perfect timing for it to be aired around Mid-Autumn festival.
Moonlight Resonance
31st March 2008
asian entertainment
/
drawings
Tags:
chibi
,
tvb
2 Comments
Dear Chibi,
yay, we have a new doodle. This artwork was drawn as a gift for someone and features the couple from "The Master of Tai Chi". I always found some difficulty drawing cartoons of real life people, but it's always satisfying when there's a striking resemblance in the end =) I went for the sketchy, water-colour-painted look. It took about 3-4 hours to get together, but it was fun.
4th July 2006
anime & manga
/
asian entertainment
Tags:
gravitation
,
nana
,
paradise kiss
,
return of condor heroes
,
starcraft
,
tvb
1 Comment
Dear Chibi,
Sometimes I surprise myself..I woke up at 1pm today o.o Thats my..record…lol..
Last night I was playing multiplayer BroodWars with my siblings, been ages since I've played it, hehee.. Will play more later…ehehee…
I've actually been wanting to watch some anime series this break, I've been downloading them for a while, but never got the chance to watch it, or when I do have time- I'm not in the mood for anime. Today I finished off Paradise Kiss, and it reminded me of Nana, it has a similiar style~ but hey, it was written by the same person, so obviously it would. There was something about this series that got me hooked, the illustrations are a little strange but interesting (main thing that disturbed me was their large lips) but I got disappointed at the ending. The characters pretty much dispersed, everyone moved on in their seperate lives. I was a little confused at the ending, but it seems the main couple didn't end up together, I think that's what really annoyed me. Their relationship was similiar to Yuki and Shuichi from Gravitation (except this couple is not homosexual) but they ended up together and I liked that…here, they just seperated v.v it is somewhat depressing. This series feels a little unusual, but was attractive at the same time- don't know how to describe.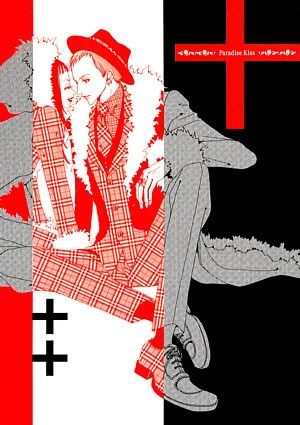 I'm currently downloading Nana the anime, as well as Return of Condor Heros 06 featuring Liu Yi Fei, but I think I'll watch them when they're all out, I don't particularly like to have to wait for each episode to come out.
On another note, the TVBJ series I've been following every weeknight- Au Revoir ShangHai is ending this Friday, how exciting. This series turned out way better than expected… well, I didn't expect anything from this- so that made it better! haha.
Hi! I'm Chibi Jen. Mummy to P-chan, wife, comic artist, twin and cat owner from Sydney. This is my journal to capture my little daily adventures. More about me >
Categories
Topics
Latest Comments
Contact
Email: chibi@windy-goddess.net
Dear Chibi © 2005 - 2019 Chibi Jennifer. All rights reserved.
Please do not use or republish any content from this blog without permission. Back to Top