19th February 2017 at 1:00 pm
Dear Chibi,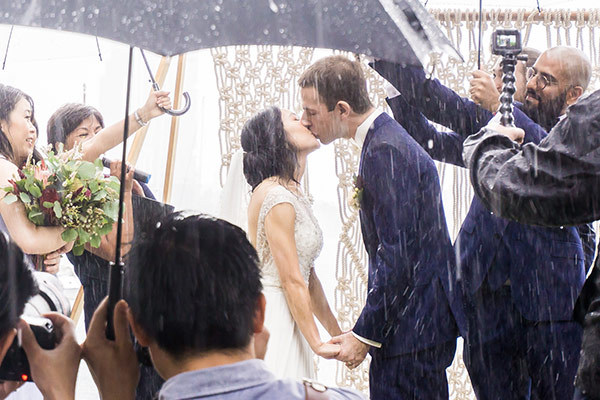 Newway and Alex have been an item for the longest time. Travelling, moving to London, doing long distance.. they've done it all. I'm so happy these two are finally tying the knot and that we get to be a part of their special day.
I've known Newway since High School~ she was the tiniest one in our group, the most creative, the smartest and the fastest (oh can she run with those little legs!) Although she's stronger and tougher than she looks, she'll always be our little Bert. Alex, please take good care of her :3
Despite the thunderstorm and pouring rain, they braved through it all to pledge their lives to each other. Nothing could stop the smiles on their faces. What a beautiful ceremony.
The ceremony was held at Sawmillers Reserve, McMahons Point at 4pm. When Hubby and I arrived it had just started sprinkling.
Awwwwwww… :3 Newway's nieces as the flower girls
Here comes the gorgeous bride :D Newway looked stunning.
I think the rain makes the day extra unforgettable~ How amazing does this photo look?
It was still raining after, so we all moved into a hall where the couple signed their marriage certificate.
Reception was held at Sails on Lavender Bay at 6pm, right next to the water. The weather started to clear up a little!
A + N Mail
We are on table 7!
These cute wooden seating cards are also personalised coasters.
Hand painted toppers~ The outfits are so accurate.
Instagram printer fun! I've since deactivated my account XD
MGHS group pic :D
Wishing this newlywed a lifetime of happiness~ Congratulations Newlex!!
Credit goes to Hubby for all the photos above :)
Some official photos from the Bride & Groom:
11 Responses to "Newway & Alex get Hitched"