13th December 2015 at 8:30 pm
Dear Chibi,
My older twin sister has finally tied the knot~ Congrats again to Kaz & Jia on such a beautiful wedding day :3 I'm sure you'll treasure this day forever.
This is the second time I've been the maid of honor, well, first time being a Matron of honor ;D~ and it really is a privilege to be part of such a special milestone, and to be able to witness the wedding from start to finish. (lol, this is starting to sound like a wedding speech… XD).
The bridesmaids had all stayed over at my parents house the night before, in preparation for a early 4am start! Martha & her makeup team arrived, and we spent the next 2-3 hours getting dolled up. It all started to feel real once the sun came out and the photographers & videographers arrived.
(All photos posted on this blog entry was taken by my talented Hubby :D)
Chinese Door Games
Around 8am, the Groom and his groomsmen arrived for the door games. For those who are unfamiliar with this, it is a Chinese tradition for the boys to be humiliated (in a light-hearted way) and put through a series of tests to prove he's worthy of the Bride (who is waiting inside her bedroom).
The boys were made to sing Carly Rae Jepsen's "Call Me Maybe". It was a poor attempt XP
Alright, time for some bras and panties!
The Boys dance to Beyonce's "Single Ladies" (which was later shown at the reception without their knowledge ;D)
We also got to see some intimate action, as they passed 'Singles' cheese with their cheeks…
..and then eating it, muahaha. ew. XD
The groom was then made to pop a balloon with each of his groomsmen without their hands or legs touching it.
Oh dear ;D
Groom bribing their way in ;D SHOW ME THE MONEY.
Chibi is not impressed XP. At least its real money… (they handed over fake printed notes earlier)
But we bestowed pity upon them 8D Actually, it was Kaz who told us to let him go ;D
Jia makes it to the front door and calls out "Lo Por!!!" (wife)
Tea Ceremony
Once the groom makes it in, the Tea Ceremony commences.
Only the elder siblings get served tea :'D Guess I miss out.
There was a lot of food prepared for everyone : ) Yay, breakfast! XD
Around 9.45am, it was time for the Bridal Party to head off to the Groom's family, and have their Tea Ceremony.
Wedding Ceremony
The wedding ceremony was held at Observatory Hill. Simply beautiful :) I will let the photos speak for themselves…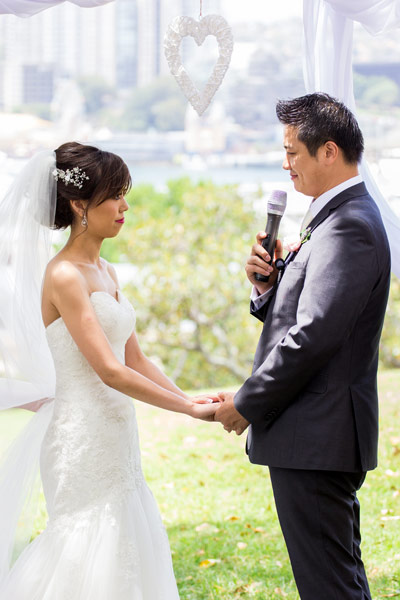 Wedding Reception
And finally, the big celebrations begin at the Wedding Reception held at Sky Phoenix Chinese Restaurant.
hehe.. my chibi drawing 8D
Let Love Grow~ the personalised bombonieres which took us girls over 10 hours to put together :'D
DIY table centerpieces & table numbers
Epic first dance to "You're My Angel", salsa style.
What a wonderful day : )
6 Responses to "Kerry & Jia's Wedding 12.12.15"